Two-phase optimization approach to transit hub location – the case of Dalian
发布时间:2013-11-28
16:19:48
来源:
作者:Bin Yu, Hanbing Zhu, Wanjun Cai, Ning Ma, Qiji Kuang, Baozhen Yao
&nbsp
Bin Yua,
Hanbing Zhua,
Wanjun Caia,
Ning Maa,
Qiji Kuanga,
Baozhen Yaob,
a Transportation Management College, Dalian Maritime University, Dalian 116026, PR China
b Sch Automot Engn., Dalian Univ Technol, Dalian 116024, PR China


Highlights

•To determine the candidate nodes of transit hubs based on passenger attraction.
•To optimize hub distribution by maximizing served population per construction cost.
•Data of Dalian is used for testing the validity of the approach to hub location.


Keywords
Transit hubs; Passenger attraction; Candidate nodes; Location optimization


Abstract
This paper proposes an approach to deal with the hub location problem in urban public transit network design, which includes two phases: to determine the candidate nodes and to optimize the distribution of transit hubs. Firstly, an indicator defined as passenger attraction is introduced to describe the attraction level of a transit node to passengers. A selection model based on passenger attraction is built to choose several candidate nodes from all the transit nodes. Secondly, a mathematical model, aiming at maximizing served populations per construction cost, is proposed to optimize multi-hub location based on the selected candidate nodes. At last, the data of Dalian city, China is used for testing the validity of the proposed approach. The results indicate that the candidate node selection model according to passenger attraction can provide an appropriate searching space for hub location optimization and the selected candidate nodes can almost cover all the passenger flow collection and distribution centers in the urban area of Dalian. Furthermore, the optimized hub location in the case study is consistent with the practice situation in Dalian. This indicates that the proposed two-phase optimization approach is a competitive method for transit hub location.



Article Outline
1. Introduction
2. Literature review
3. Problem description
4. Selection model of candidate nodes
4.1. Index-1: accessibility of a node
4.1.1. Served populations of a node
4.1.2. The index of accessibility

4.2. Index-2: connectivity of a node
4.3. Selection model of candidate nodes

5. Location model of hubs
5.1. Populations served by hubs
5.2. Construction cost
5.3. Model of hub location

6. Case study
6.1. Data collection and process
6.1.1. Transit network
6.1.2. Population data analysis

6.2. Numerical tests and analysis
6.2.1. Candidate nodes selection based on passenger attraction
6.2.1.1. Accessibility
6.2.1.2. Connectivity
6.2.1.3. Passenger attraction

6.2.2. Model implementation
6.2.2.1. Single-hub location
6.2.2.2. Two-hub location
6.2.2.3. Three-hub location
6.2.2.4. Four-hub location



7. Conclusions
Acknowledgments
References


Figures



Fig. 1.

An example on the proposed approach.



Fig. 2.

Accessibility and connectivity.



Fig. 3.

The served populations of the stop.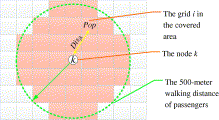 Fig. 4.

The grids of the node k.



Fig. 5.

Node accessibility schemes.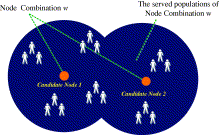 Fig. 6.

The served populations of a node combination.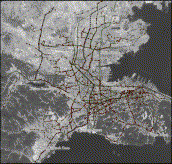 Fig. 7.

The transit network in Dalian main city zone.



Fig. 8.

The population distribution in transportation district in Dalian.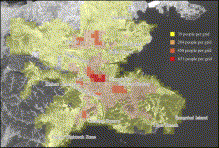 Fig. 9.

Dalian population distribution based on grids.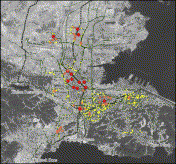 Fig. 10.

Accessibility of transit nodes in Dalian.


Tables

Table 1. Accessibility and connectivity and passenger attraction of nodes.

Table 2. Location result based on model of single hub.

Table 3. The target values of hub location.