Analysis of factors underlying foreign entry strategies of terminal operators in container ports
发布时间:2013-12-5
15:44:28
来源:
作者:Francesco Parola, Theo Notteboom, Giovanni Satta, Jean-Paul Rodrigue
&nbsp
Francesco Parolaa,
Theo Notteboomb, c,
Giovanni Sattad,
Jean-Paul Rodriguee,
a Department of Business Studies, University of Naples "Parthenope", Via Generale Parisi 13, 80132 Naples, Italy
b ITMMA – University of Antwerp, Kipdorp 59, 2000 Antwerp, Belgium
c Antwerp Maritime Academy, Noordkasteel Oost 6, 2030 Antwerp, Belgium
d Department of Economics, University of Genoa, Via Vivaldi 5, 16126 Genoa, Italy
e Department of Global Studies & Geography, Hofstra University, Hempstead, NY 11549, United States



Highlights

•The paper analysesthe antecedents of PPP foreign entry strategies adopted by container terminal operators.
•The focus is on the explanatory role of firm-specific, external, project-related and cross-cultural determinants.
•The empirical analysis is supported by a large sample of foreign port PPP initiatives over the period 2002–2010.



Keywords
Public–private partnership; Foreign entry strategy; Greenfield; Acquisition; Container port industry


Abstract
Port reforms around the world have opened regional container port terminal markets. The emergence of a wide array of global terminal operators has led to a differentiation in entry strategies driven by their respective objectives and by factors exogenous to the firm.This paper looks at antecedent factors that play a role in a company's entry strategy in a public–private partnership (PPP) setting by performing binomial logistic regression on a large sample of container terminal deals over the period 2002–2010. More specifically, it analyses to what extent firm-specific, external, project and cross-cultural factors play a decisive role in the choice between direct PPPs (i.e. stepping into a new PPP arrangement such as a new concession agreement) and indirect PPPs (i.e. stepping into an existing PPP arrangement through acquisitions).

The empirical findings demonstrate the pivotal role of some firm specific characteristics (market experience and business model), external factors (host country development and market openness, government effectiveness, market concentration degree, and market saturation) and project-related factors (project size, number of partners involved, and equity joint venture with the Port Authority), also unveiling some preliminary results in relation to cross-cultural variables.


Article Outline
1. Introduction
2. Theoretical framework and research hypotheses
2.1. Direct PPP vs. indirect PPP entry strategies in the container terminal business
2.2. The antecedents of foreign entry strategies in PPP initiatives
2.2.1. Firm-specific variables
2.2.2. External variables
2.2.3. Project related variables
2.2.4. Cross-cultural variables


3. Data and method
3.1. Data sampling
3.2. Variables

4. Main outcomes
4.1. Empirical findings
4.2. Robustness checks

5. Discussion
6. Conclusions
References


Figures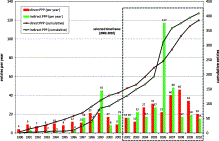 Fig. 1.

The evolution of PPP foreign entry strategies in the container port industry (1990–2010).



Fig. 2.

Direct vs. indirect PPP foreign entry strategies: the theoretical model.



Fig. 3.

Sample of 416 PPP transactions by foreign entry strategy (2002–2010).



Fig. 4.

Number of stakes held by foreign global terminal operators, 2010 ("Market openness" variable; OPEN).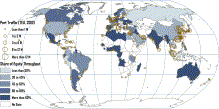 Fig. 5.

Share of equity throughput handled by the top 4 terminal operators per country, 2010 ("Market concentration degree" variable; MKCON).


Tables

Table 1. Geographic distribution of foreign direct PPP and indirect PPP: a timeframe comparison.

Table 2. Description and operationalization of variables and predicted signs.

Table 3. Correlation matrix and descriptive statistics.

Table 4. The binomial logistic regression models.